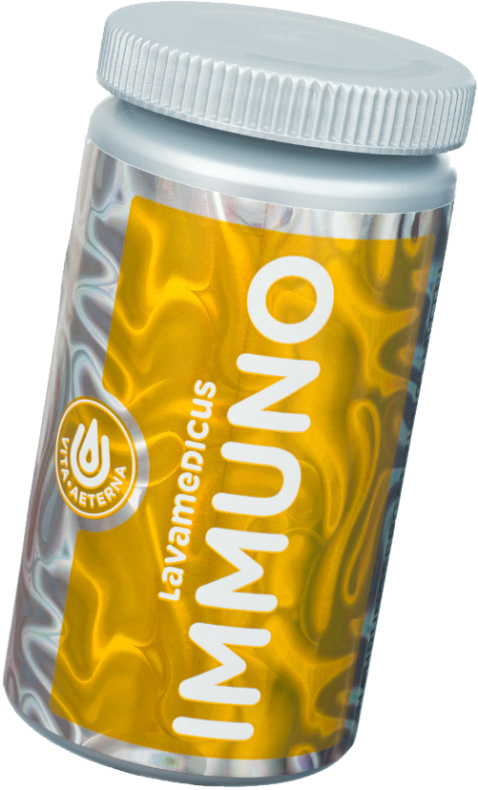 IMMUNO
FOR STRENGTHENING THE IMMUNE SYSTEM
SYNERGISTIC EFFECT OF PURELY NATURAL INGREDIENTS FOR STRENGTHENING THE IMMUNE SYSTEM
LAVA MEDICUS IMMUNO
A good immune system is very important. The role of the immune system is to protect our body from any foreign matters that might cause any damage or homeostatic imbalance. The success of the immune system depends on its ability to distinguish between foreign (non self) and host (self) cells. When an organism is threatened by microorganisms, viruses, or cancer cells, the immune system acts to provide protection.

Chances are you may have a weak immune system. Of course, there are different imbalances in the body that will weaken your immune system that are generally out of your control. But for the average person that does not have one of these conditions, how we treat our bodies will indirectly affect the ability of our immune system to fight the imbalance in the body.
Naturally, we are all born with different levels of immune systems – some stronger than others. But our daily environment also plays a role in how effective our immune system can be.
Weaker immune system make us more vulnerable to any imbalance in the body that affects humans. Repeated infections, inflammation, slow wound healing, and fatigue can all be caused by a weak immune system. If your body is not prepared to fight off invaders, you are going to get sick more often than the average person.
Purely natural, bioactive ingredients in
"IMMUNO"
such as
ROYAL JELLY, BARBADOS CHERRY (ACEROLA)
and
POLLEN
are encapsulated into
SILICA EARTH
with special production technology. Ingredients have synergistic effect and strengthen the immune system of human body.
All written facts about ingredients are pointing out that
"IMMUNO"
has wide field of use, as food supplement by bacterial, viral or fungal imbalances in the body and for natural strengthening of organism.
"IMMUNO"
has also shown anti-oxidative and detoxification activities due to Silica earth's bio-physical action.
Daily dose:
Take 3 x 1 capsule with a sufficient amount of water.

Recommended daily dose:
3 x 3 capsules with a sufficient amount of water.

Its recommended to take the dosage on empty stomach (in the morning and before bedtime) with a sufficient amount of water to achieve an improved absorption.

The product is not recommended for children under 12 years of age.

Packaging: 100 capsules
Katja G.
---
"I am satisfied and a regular user of high-quality products from the group Lava medicus. A product ANTI STRESS helped me during the stressful period. After using it I felt more relaxed and I could resist stressful situations more easily. As my immune system often collapsed (also as a consequence of stress), I also took the product IMMUNO. With a completely natural active ingredients I have successfully re-established the normal functioning of the immune system and thus "repelled" symptoms of the disease. To effectively detoxify the body - especially during holidays and spring time, I have also used the product BASIC, which contains the highest quantity of the activated siliceous earth. As I'm by nature an alternative person and I want to help myself in a completely natural way, I took care of my overall health with the Lava medicus products."
Rudolf B.
---
I have started using a product IMMUNO when I weighed 112 kg and I had severe back pain and a pain in joints. After the first month of using the IMMUNO the pain decreased and I was able to walk more easily. After two months of using the IMMUNO I have lost the weight to 107 kg. Today I weigh 95 kg, I walk and move much easier, the back pain occur rarely and are not as severe as before using the IMMUNO.
HIGH TECHNOLOGY DEVICES FOR MEASURING BIOFIELD, FOOD AND ENVIRONMENT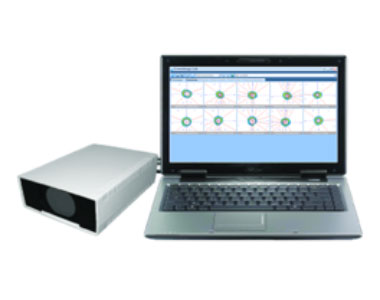 CROWNSCOPY
Device for measuring the electromagnetic human biofield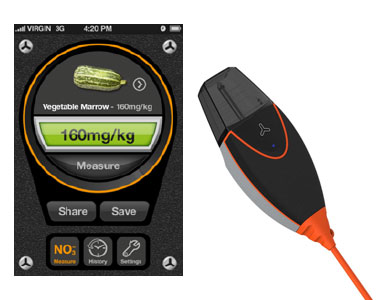 FOOD TESTER
Measures nitrate level in fruit and vegetables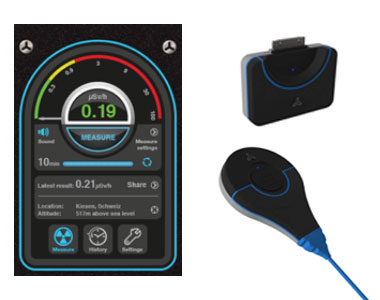 RADIOACTIVITY TESTER
Checks a level of gamma radiation in environment, radio contaminated material and food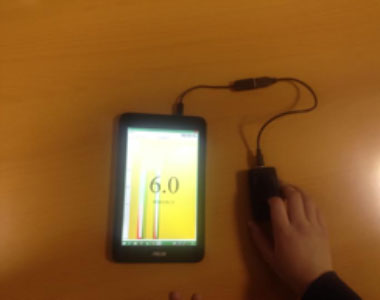 NON-INVASIVE GLUCOSE METER
Controls glucose level in blood without any pain