BACTERIXS – old
19/11/2015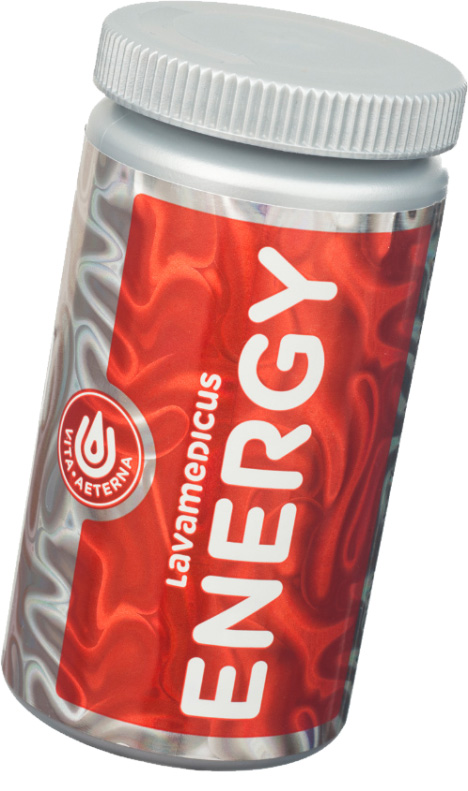 ENERGY
FOR THE INCREASE OF LIFE ENERGY
SYNERGISTIC EFFECT OF PURELY NATURAL INGREDIENTS TO INCREASE LIFE'S ENERGY
LAVA MEDICUS ENERGY
Low energy makes performing everyday tasks extremely difficult. Work becomes daunting, relationships strained and participating in the activities that should make you happy isn't possible because of low energy levels.

Since low energy levels seem to be so common in the hectic modern lifestyle, it is too often considered a normal state of being. The truth is, that this is not a normal state. Poor diets, excessive toxins and pollutants in the environment, unbalanced life-styles, lack of exercise, everyday stress, mental and physical fatigue and poor concentration are all common factors that can lead to lack of energy and motivation to overcome life challenges.

Purely natural bioactive ingredients in
"ENERGY"
such as
GINSENG, GUARANA, ROYAL JELLY and YERBA MATE
are encapsulated into
SILICA EARTH
with the special production technology, to increase physical and mental performance, alertness and concentration in a natural way, to strengthen the body and mind and to give the body a positive feeling of power and satisfaction.
Daily dose:
Take 3 x 1 capsule with a sufficient amount of water.

Recommended daily dose:
3 x 3 capsules with a sufficient amount of water.

Its recommended to take the dosage on empty stomach (in the morning and before bedtime) with a sufficient amount of water to achieve an improved absorption.

The product is not recommended for children under 18 years of age, pregnant women, nursing mothers and persons who are sensitive to caffeine. Product should not be taken concomitantly with alcohol.

Packaging: 100 capsules
Matjaž T.
---
An intuition led me to the products Lava medicus, which I find remarkable! So far I have used BASIC and ENERGY and I can say that regular intake brings beneficial effects. I have more energy and I wake up more rested. Spontaneously I have also changed the diet and along with that cleaned the body. I have to commend and congratulate on the "appearance" of products and the positive energy of the company's employees Lava medicus. In any case, I highly recommend Lava medicus products!
Nina K.
---
Despite the fact that I have healthy eating habits, I keep an eye on a good night's sleep and stress level and at any major change of weather my throat hurts and I catch a cold. With the help of Lava Medicus product ENERGY I regained my strengths in a few days, which it usually took two weeks. I am thrilled! Moreover, I believe that the siliceous earth protects me against radiation, to which I am daily exposed, and generally I have more energy than before. 
HIGH TECHNOLOGY DEVICES FOR MEASURING BIOFIELD, FOOD AND ENVIRONMENT

By continuing to use the site, you agree to the use of cookies. more information
The cookie settings on this website are set to "allow cookies" to give you the best browsing experience possible. If you continue to use this website without changing your cookie settings or you click "Accept" below then you are consenting to this.

A cookie is a small file which asks permission to be placed on your computer's hard drive. Once you agree, the file is added and the cookie helps analyse web traffic or lets you know when you visit a particular site. Cookies allow web applications to respond to you as an individual. The web application can tailor its operations to your needs, likes and dislikes by gathering and remembering information about your preferences.

We use traffic log cookies to identify which pages are being used. This helps us analyse data about web page traffic and improve our website in order to tailor it to customer needs. We only use this information for statistical analysis purposes and then the data is removed from the system.

Overall, cookies help us provide you with a better website, by enabling us to monitor which pages you find useful and which you do not. A cookie in no way gives us access to your computer or any information about you, other than the data you choose to share with us.

You can choose to accept or decline cookies. Most web browsers automatically accept cookies, but you can usually modify your browser setting to decline cookies if you prefer. This may prevent you from taking full advantage of the website.